BikeArlington, in partnership with the Arlington Bicycle Advisory Committee, presents the "bike-umentary" of the year:  BikeSwell - Smart Movement in Arlington, Virginia.  This film features local bike advocacy rock stars and highlights the triumphs and tribulations of making Arlington a premiere bicycle friendly community.  The feature presentation will be followed by a panel discussion so you can learn more from some of the people involved in Arlington's "Smart Movement":
Chris Eatough (Panel Moderator) - BikeArlington Program Manager
Jason Berry - Director, Gripped Films
Mark Blacknell - President of the Board, Washington Area Bicyclist Association
Gillian Burgess - Founder, KidicalMass Arlington
Edgar Gil Rico - League Certified Instructor, Hispanic Marketing Specialist
Jakob Wolf-Barnett - Chair, Arlington Bicycle Advisory Committee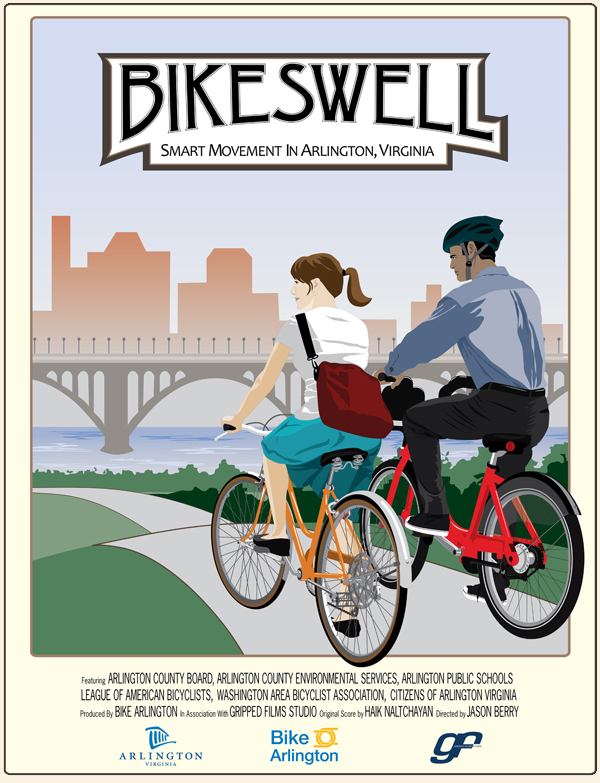 Tickets are free, but we strongly suggest donating at least $5 to the non-profit organization, Phoenix Bikes. Phoenix Bikes rebuilds and refurbishes old bikes, and supports youth by providing a safe and educational environment for them to volunteer and learn.
Doors open 7:00pm.
Movie starts 7:30pm.
Panel discussion/Q&As begins at 8pm.
Doors close 9pm. 
There will be prizes raffled off after the film, donated by BikeArlington, the League of American Bicyclists, WABA and New Belgium Brewery.  But wait, there's more!  Phoenix Bikes has generously donated a bike that will be raffled off as the Grand Prize.  Every attendee will receive one raffle ticket. Additional tickets are available for purchase ($2) with all proceeds going to Phoenix Bikes.